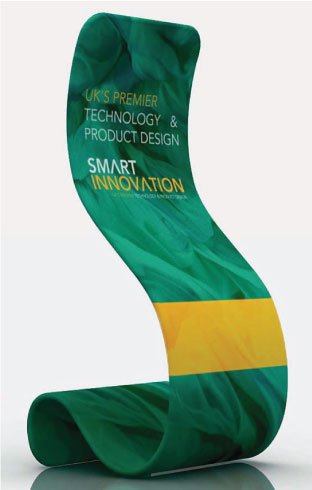 Pillowcase Tension Banner Stand
The double-sided pillowcase tension fabric banner stand is an extremely cost-effective signage option that provides a large visual impact in a variety of sizes. With lightweight aluminum snaps together poles, set up is quick and easy. These displays are popular at tradeshows, events and retail stores because of their portability and ability to quickly interchange the double-sided fabric print.
Fabric Banner Stand Assembly
With lightweight aluminum that snaps together, set up is quick and easy. Each tubular piece slides into each other, a locking button secures the frame for stability.
Once, the frame is assembled, it can be secured to the base. A bottom screw is then used to connect the outside frame to the base.
Once the frame is secured to the base, slide the pillowcase fabric over the entire stand. This fabric banner stand can easily be updated by interchanging the fabric graphic print.
Pillowcase Backdrop Fabric Tension Display
Exibu fabric banner textile strain Display If you all haven't yet taken advantage of the eiderdown style textile for shows to display thy brand name or otherwise products, you all're leaving out on one of the finest publicity signage for shows. As the denomination indicates, the eiderdown backdrop textile strain display simulates the eiderdown design, with a pipe frame texture as well as a eiderdown style stretch textile that runs over it.
Exibu fabric banners provide a few perks which comprise time as well as price performances, adaptability, as well as certainly a spectacular artistic attraction. In addition, when you all're pressed for a time at trade conventions, exhibitions, events, or otherwise in the time of the vacation period at thy shop, the exibu textile strain for show is thy most in safety wager. It lets simple laid up so you all may have it set up and set to show thy offerings within minutes. It's fitted with aluminum frame poles that put together with snap. The tubular bits glide within every last one and a locking button ensures the frame, surrendering it permanence. Once the frame is possibly set up, entire you all must perform is lock it to the basis – attach the exterior frame to the basis with a bottom screw. Then just glide and spread the eiderdown textile over the stand and voila — the eiderdown banner for show is possibly set for exhibition!
As the textile is possibly pulled tense over the frame, its strain as well as tension puts a nice and tight looks. Polished and graceful, the eiderdown sign is possibly utilized in a variety of settings to enhance mark consciousness as well as promote products and services
Get the Desired Effect by Choosing from a Wide Range of Layouts and Sizes
We help you achieve the desired effect by choosing from a wide range of graphics. Customize the graphics on your fabric and perfect the appearance of your brand. Choose from a broad range of sizes, including 2, 3, 4, 8 and 10 ft. wide pillowcase banner stands for your space and display requirements.
The platform can be used as a trade show booth, but it's also great for events, expos, and conventions. It gives you the opportunity to display your products and provide other information about what you're selling. The best part is that it won't take up much space and you can put it anywhere in the store.
With a double-sided fabric print option, the pillowcase banners can be easily interchanged. This gives businesses a great advertising range as you can simply exchange the fabrics to advertise a variety of product offerings. Moreover, with an optional protective carrying case, the banner stands become easily portable. Use them between retail settings and events by easily transporting them from one venue to another.
Exibu Modular Display Solutions has a team of signage experts to help you make display requirements happen. Click on any of the links here or reach out to us at +91 9911443960 for immediate assistance
Pillowcase Tradeshow Displays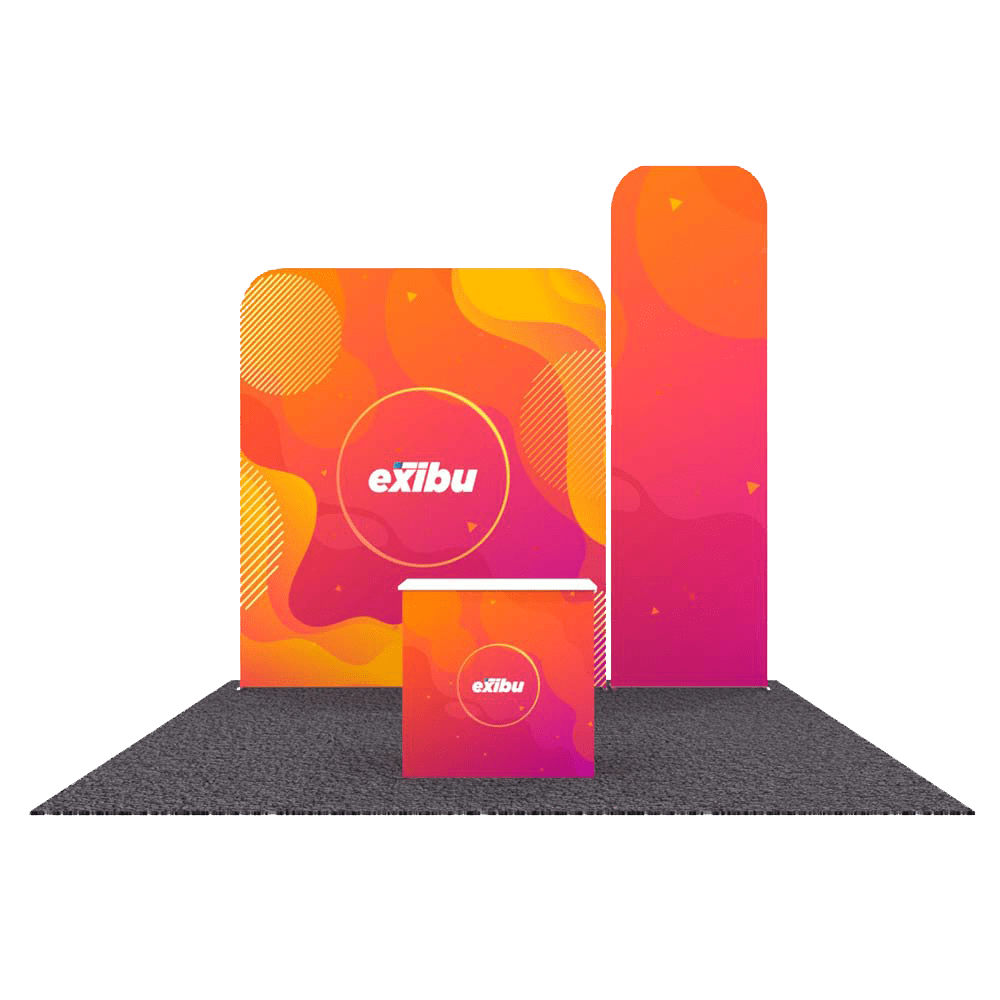 Pillowcase fabric banner stands provide interchangeable tradeshow displays and barriers. For easy assembly, portability, and graphic replacement, pillowcase banner stands become the perfect tradeshow display.
A Variety of Tradeshow Items are Available
Discover Fully Customizable Freestanding SEG Displays
Discover Removable Floor Wraps
Discover Ceiling Hanging Tradeshow Options
View Other Tradeshow Products
Interchangeable Signage Solution with High Visual Appeal
When you're in the market for versatile, easy-to-use and attractive display solutions, a pillowcase banner is one to think about. In almost any setting or venue, these lightweight fabric displays are an elegant and artistic way to both complement and enhance your brand or message. This unique visual aid is highly impactful and durable enough to be reused time after time. While they are most commonly used as effective wayfinding tools indoors such as in office buildings or lobbies, businesses can also use them outdoors their establishment or during special events like festivals. Furthermore, if you own a store front shop then pillow case banners can be used at the entrance to highlight sales and current promotions.
A pillowcase banner is a fantastic solution that allows you to market your brand on the go while you're attending an event. It can be used at trade shows, conventions, expos and any place where it might be beneficial to advertise your presence as a company. A pillowcase banner will make a lasting impression on potential clients because of how eye-catching and attention-grabbing they are!
While foam board signs and other similar signage can be good and effective options, they are typically not as elegant or professional as pillowcase banners. With a pillowcase banner, you will receive a product that is made to last and much easier to set up, break down, and travel with. You might find it hard being one of the many companies that have damaged their signage due to excessive folding or damaged material (after trying to fit some into a suitcase for an important conference for instance). This isn't an issue with pillowcases because even if it ever gets dirty or smudged from use, there is no need to worry about it since the fabric is treated such that dirt comes off easily when put through a clothes washer machine. Pillowcase banners may cost more upfront than one could expect but in the end, they will always end up saving you money and stress!
The fabric of a pillowcase banner makes it an excellent window-hanger, backdrop, or other feature, and there will be no creases or weight issues since the fabric is so light. You can string it up or tack it to a wall.